If you need to move Biogas slurry at a constant rate, the answer could be to use a positive displacement pump. This type of equipment is able to handle viscous Biogas fluids more efficiently than some other types of pump. The Progressing Cavity Pump can also deal with high dry matter content media (up to 10-12 %). With conventional rotary piston pumps this would not be possible (max. 9 % dry matter content). Despite the strong performance, the pump runs very quietly. We are very satisfied."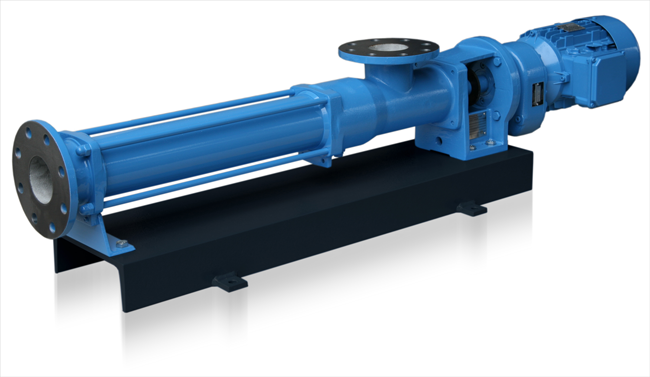 How Does a Positive Displacement Pump Work?
Thick and abrasive Biogas liquid flow rate more slowly than other types of liquid and also create a higher degree of resistance. Positive displacement pumps are often the preferred choice to move these liquid at a consistent speed, because of their efficiency in operating at lower speeds. These machines work mechanically, by expansion and contraction of the space in between elements of the pump. Because each motion displaces the same volume of liquid, this ensures an even rate of flow.
Standard equipment of horizontal Biogas Slurry Feeding Pumps
Parallel shaft gear motor with high operating ratio for continuous operation
Low-maintenance drive head and Proper oil lubrication
Sealing by double low-maintenance mechanical seal to the pump chamber
Pump housing made of steel with bilateral pin flange and outlet flange made of steel
Slurry resistant rubber stator (other qualities surcharge)
By request: Built on a galvanized console or stainless steel console